I'm really sorry that I've been negleting the site for a while, but don't worry I'll be making up for it! BGTD Version 2.0 coming soon to bgtd.homepage.com! Please email me at bgtd@juno.com for more information or if you have any suggestions for features you would like to see in v.2.0!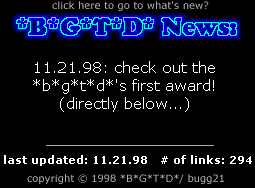 Check it out! The *b*g*t*d*'s first award!...


Thanks Tripod!
You are here. This is where you will find a description of all the pages on this site, an overview of *B*G*T*D* News, and my little collection of various icons, memberships, and counters (the bottom of the page).

This is it! This is the directory of over 270 link to various web site dedicated to the tablature of an individual band or artist. Comes complete with ratings on selection, organization, and the overall worth of each and every site. You can even find the sites that include bass tabs in their realm of guitar tabs...

Come to find what's new on the web site, including what I have recently updated. Or you can just look at the animated News Display at the top of this page.

The page dedicated to the bass player. Come to think of it, I'm a bass player! Come here to find an exclusive directory of the pages that include bass tab and links to other useful bass sites.

Go to connections if you want to add a link to the *B*G*T*D*, fix a broken link, update a link, or send me a comment.
If you want to add a site, fix a broken link, or have a comment, just go to connections.
MEMBER
of the POD


LE FastCounter

This site makes extensive use of the "Verdana" font. Click here to download a the Verdana font group in the form of a self-extracting .zip file. Just download, and run the zip file to install.